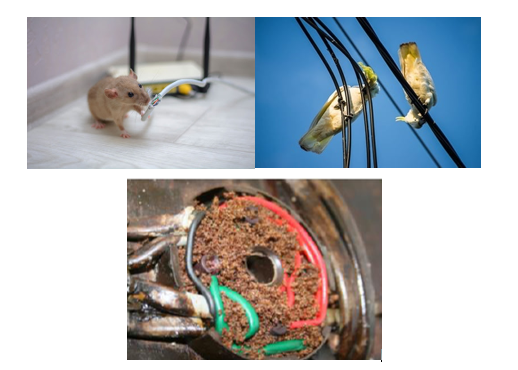 With billions of people now online, working, collaborating, and connecting, the need for faster connectivity influences more and more fiber optic cable designs and installations globally.
But, having faster connectivity will only go so far if the integrity of the cable is compromised by damage. Cables placed in outside plant or harsh environment applications are designed to endure the extreme challenges associated with temperature fluctuations, crush and impact, tensile loading, and even immersion or burial applications. Yet, surprisingly one of the biggest threats to fiber optic cable signal integrity no matter if the install is outdoors, underground or in the interior of a building or home, is rodents chewing on cables to whittle down their incisors hence damaging the fibers within.
Optical cables may be attacked by several species of rodents e.g. rats, water voles, martens, squirrels, or gophers. Also, other animals may attack cables e.g. termites, ants, woodpeckers (aerial cables), or arctic foxes (in Greenland).
Many projects require that optical-fiber cables be installed in ducts inside and outside of buildings. While the designer will tell you that this level of protection is necessary to protect against mechanical abuse, none of them can assure you that this will protect the cables from rodent and pest attacks.
The fact about all rodents is that they have incisors that never stop growing. They gnaw continuously to keep their choppers in check. Otherwise, their teeth would grow to such an impractical length that they would starve and die. Insects such as termites and ants equally contribute to damaging cables. When termites encounter a cable, in addition to biting, they also secrete formic acid, which severely corrodes the cable insulation and sheath, causing the cable insulation performance to decline or even short-circuit. Therefore, in the laying regulations formulated by the cable use department, there are clear provisions on anti-termite measures for cable lines.
The acid secreted by insects can destroy the hardest engineering plastics such as Polyamide 12.
These pests have succeeded in bringing the nation's defence activities to a still. Whether it's a groundhog causing an emergency shutdown at Pentagon, or the Israel army struggling with rat-infested military bases, these pests have managed to find their way everywhere.
More than 60% of the short circuits are caused by rodents or termites damaging the sheath of the cable. The squirrel is a bigger threat to cybersecurity than hackers. They are a major cause of power outages worldwide. They have been successful in leaving the U.S. Navy base with disrupted communication in the past. Birds like cockatoos have wreaked havoc on Australia's Broadband service resulting in a damage bill of 80,000 dollars.
Rodent damage to communication cables is more than just a nuisance, as it can result in costly repairs and service interruptions.
One such recent incidence is as below:
Chaos as 1,800 homes left without internet after rats chew through cables
Openreach engineers are still working to resolve the issues which have seen 1,800 households in the Torridge area of Devon go without phone or internet connection
Alex Davis
Ryan Merrifield
19 Oct 2021
Nearly 2,000 homes were left without any phone or internet connection after rats reportedly chewed through the network cables over the weekend.
The blackout hit residents in the Torridge area of Devon with engineers for Openreach – a provider for BT, Vodafone, Plusnet and Sky – working to resolve the issue.
However, the company has given no estimated time on when the matter might be resolved.
Households in Bideford, Clovelly, Hartland, Horns Cross, Parkham and Woolfardisworthy are all understood to be affected, reports DevonLive.
The disruption comes a week after Torridge households suffered a 22-hour outage between October 9-10.
Talking about the costly repairs;
AT&T investing millions to bury fiber-optic cables damaged in Ida
By KATC News
Posted Oct 20, 2021
AT&T is investing tens of millions of dollars to strengthen its network in Louisiana against hurricanes and tropical storms by burying fiber-optic lines in some of the areas hit worst by Hurricane Ida.
The project's primary focus will be in parts of the Bayou parishes and in and around the New Orleans area, including Jefferson, Lafourche, Orleans, St. Charles, St. James, and Terrebonne Parishes. AT&T plans to complete a majority of the work this year, with the project expected to be complete in the first half of 2022.
Hurricane Ida's 150 mph maximum sustained winds caused multiple cuts to key fiber-optic lines in storm-impacted areas, according to AT&T. The network connects businesses and residents in communities statewide and provides critical backhaul for AT&T's wireless network. The new project will help enhance network resiliency in future storms, AT&T said.
Such statistics are scary and dizzying. It gives the people a feeling of hopelessness and sleepless nights. As many methods are used by different authorities to curb the infestations of these rodents, we at C Tech Corporation have also come up with viable methods.
Our products Rodrepel™, Termirepel™, and Combirepel™ are one of a kind. Rodrepel™ can be described as a rodent aversive, while Termirepel™ is a termite and insect aversive, while CombirepelTM works on the combined mechanism of Rodrepel™ and Termirepel™ and acts like a rat, insect, animal and bird aversive.
The product is available in the form of masterbatches and can be incorporated into various base polymers. But this product is even much more than that. It works on the mechanism of repellence. It does not kill the target species that are rodents and other pests but only repels them.
These Masterbatches can produce a cable based on HDPE or PVC and other polymers at 1/3rd the cost, against cables produced with other Engineered Polymers like Nylon or bulky armored cables.
This product also has a very good shelf life and does not leach out in the environment, thus being totally safe for usage. Last but definitely not the least this product is also stable at high temperatures.
We also have topical applications like liquid concentrate, lacquer, and sprays that can be used near and over installed near applications.
So basically, this product is low toxic, low hazardous and completely eco-friendly. And when the world needs a greener solution for each and every aspect of life, this product comes as a breath of fresh air.
Our products are REACH (Registration, Evaluation, Authorization and Restriction of Chemicals), RoHS (Restriction of Hazardous Substances), RoHS2 and RoHS3, APVMA, NEA – Singapore compliant and are also FIFRA (Federal Insecticide Fungicide and Rodenticide Act) exempted. Ours are the first and only products in the world that are compliant with European Union's Biocidal Product Regulation (EU BPR).
So, whenever you think repellence; think of us! We have a solution! Always!
Contact us at technical.marketing@ctechcorporation.com and get the best remedies to combat the pest menace.
Also, visit our websites:
http://www.ctechcorporation.com/
http://www.rodrepel.com/
http://www.termirepel.com/
http://www.combirepel.com/
Follow our Facebook pages at:
1] https://www.facebook.com/Combirepel-411710912249274/
2] https://www.facebook.com/Termirepel-104225413091251/
3] https://www.facebook.com/Rodrepel-120734974768048/
Follow us on our Twitter pages at:
1] https://twitter.com/rodrepel
2] https://twitter.com/termirepel
3] https://twitter.com/combirepel